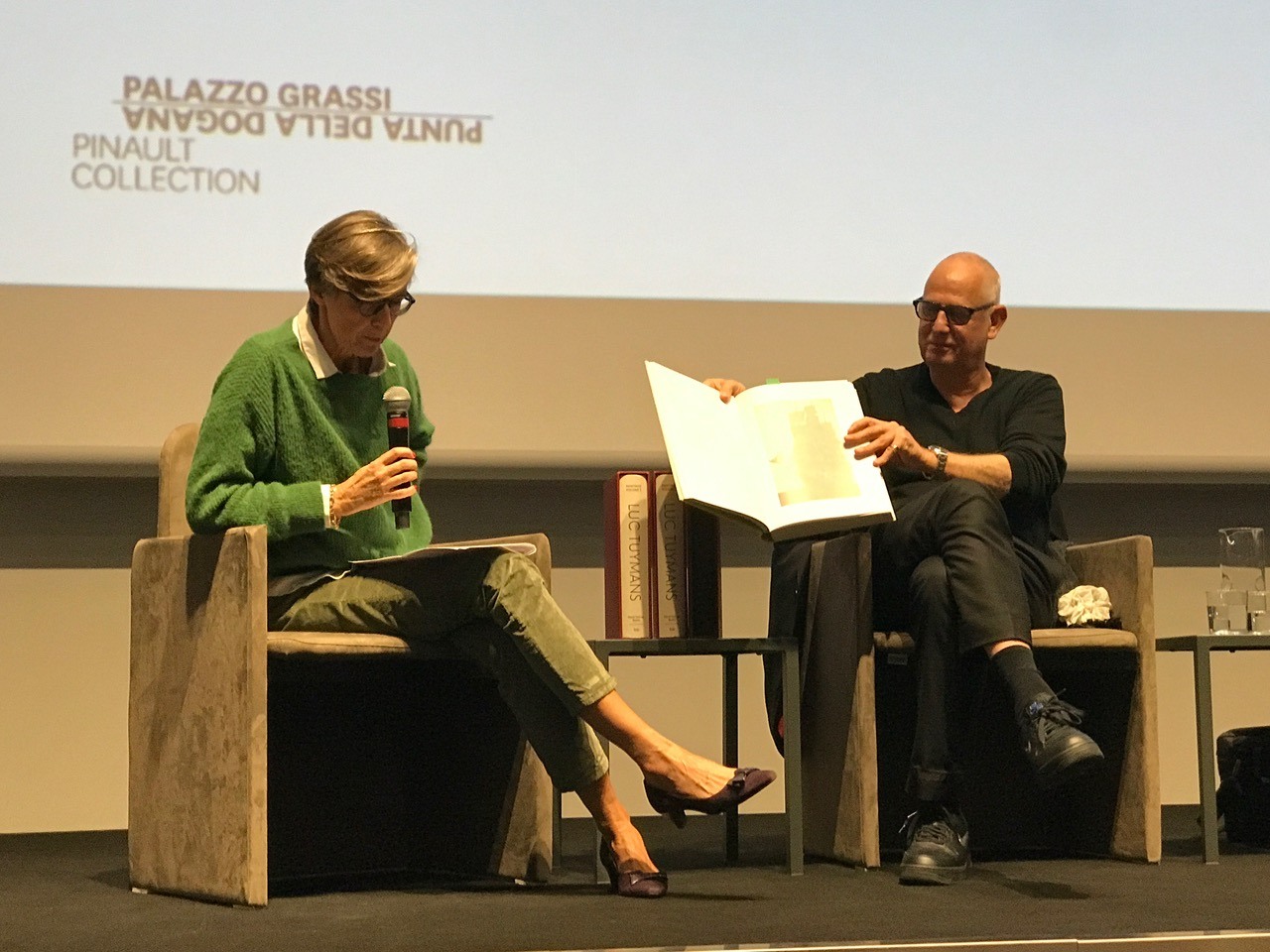 I have just completed the editing of the last and final volume of Luc Tuymans's Catalogue Raisonné of Paintings, published this month by David Zwirner Books. That marks the completion of a huge project ten years in the making. The first volume, published in 2017, features 186 paintings dating from 1972–1994; the second, published earlier this year, covers 198 works from 1995–2006, and the third 180 works from 2007–2018. All told, the three volumes take in all the paintings created by Tuymans from 1972 until 2018 chronologically. The following text is excerpted from my remarks and a Q&A during a talk about the Catalogue Raisonné at the Palazzo Grassi in Venice earlier this month.
This publication contains almost five million connections: it connects 564 paintings by Luc Tuymans with their own histories over the past five decades. It would have taken one person four years of continuous work to compile this if a link was created every ten minutes. Four years. Day and night. Without eating, sleeping, or anything else. We began ten years ago with the concept for the book and the research: my office in Berlin; Luc Tuymans and his studio in Antwerp; his galleries in Antwerp, Tokyo, and New York; and David Zwirner Books.
Why do a catalogue raisonné? It's a good example of an old technique to secure facts in a scholarly way. You may call it old-fashioned, but for me it's a weapon against a society full of fake news. We wanted to create a tool (like a telephone book) to retrieve information which is timeless, which documents precisely and meticulously the history and the reception of each work. This helps to maintain the paintings' integrity and authenticity for the future.
Having edited a number of catalogues raisonné for contemporary artists, I feel there is no single way to make a publication like this. The most important person in the entire game is the artist: every edition should have an individual structure appropriate to their work. Luc and I developed a very special feature for his catalogue raisonné: we decided to include a fully annotated and illustrated chronology at the end of each volume.
These three volumes are an account of forty-seven years of work by one of the most influential painters of our time. When they encounter such a summation, artists are overwhelmed, yes. Sometimes they don't want to face the past. But mostly they enjoy being confronted with the "big picture" of their oeuvre, and begin to draw new energy from it.
Eva, you have known Luc Tuymans for a long time. How did you first meet?
We first met in spring 1993 at Museum Haus Lange in Krefeld, or, to be more precise, I met his paintings first. I had just begun my first job as assistant curator and had to take care of the loan procedures for Luc's paintings for his exhibition. I found myself surrounded in the exhibition space by very few and very small paintings, and I could not believe that those were to make up an entire exhibition. The artist arrived and, together with the curator of the show, Julian Heynen, we installed the works. It was a miracle for me at that time: I saw Luc wandering through the various spaces, and with very quick and intuitive decisions, he directed the paintings onto the walls. And there it was, a very concentrated and all-encompassing broad exhibition. No feeling of lack of anything. Intimate formats, but with a strong and uncompromising aura that I never forgot.
What is something crucial that you understand about his work now that you couldn't have known then?
Of course, once you know more and once you've followed the development of the oeuvre for over twenty-six years, you are much more deeply involved and more knowledgeable. A big issue for both of us was the construction of the chronology, which parallels the catalogue raisonné. It makes the contexts in which whole groups of paintings came into existence very clear. I learnt my lesson in 1993 about Luc being a masterful curator by genuinely juxtaposing his canvases (or artworks by others) within a given architecture. Moreover, I know by now much more about his understanding of politics and society—and last but not least, about art and the power of art in connection to this environment.
You have mentioned that the books are structured in a way that fits Tuymans's work—can you elaborate on this?
How the books are structured pays tribute to the enormous role the artist plays in the history of painting. Giving a full account of all the solo exhibitions, selected group exhibitions, and relevant literature where the works "publicly appeared" focuses on the importance of the reception of the works. It is not about judging the way the work was received, but about providing an opportunity for researchers in the future to go back through several years and multiple interpretations to draw their own conclusions. It makes clear that the existence of art is always to be contextualised with the time when it came about. The chronology (see above) adds to that, and helps the orientation. Furthermore, great emphasis was placed on the reproduction quality of the paintings in the images. In the future, the printed image will be a reference for all further reproductions of works in books.
You worked closely with your assistant editor, Johannes Schmidt. Did you each have particular points of focus or specialism?
Johannes Schmidt has worked in my office for thirteen years. My education is in art history, and he studied media history, which is a very good addition. Moreover, his is almost one generation younger than me, so his computer and database knowledge is most "naturally" better than mine. Furthermore, we share the values of meticulousness, precision, and a passion for working with artists. He is also one of the few people in the world who can cope with my love for detail and my strict work ethic ;) It is a win-win situation—for me, and for the artists we work with.
You have included 1,477 known provenances—can you recall any memorable examples?
Of course, there are many memorable examples. You must imagine some aspects of the project as a kind of detective work. Sometimes it was an adventure to find out where a painting is physically situated. And you get involved in long stories, family dramas, and stories not unlike crime novels. But don't ask me to be more specific, because one of the features of a serious researcher of a catalogue raisonné is discretion!
Of course, this was a very serious endeavour, lasting ten years. Can you recount any anecdotes from the process of compiling the books?
The most beautiful moment I recall is the meeting we had with Luc regarding the set-up of the chronological order of the works. As a researcher/scholar, you would think you'd just present the artist with a list of all the works and that he would react to your abstract construct by correcting the sequence or confirming it. Knowing Luc (see my aforementioned experience in Krefeld), I figured that he would not respond to such a list. So we prepared an analog and illustrated index card for each work and brought those to his studio in Antwerp, where we presented them on a large table, year by year. It was wonderful to see Luc remembering all the paintings, shuffling the cards around, saying which painting led to another, and recalling the circumstances. It was like witnessing a reenactment—or at least a very vivid recollection—of his own (already historic) oeuvre, which was, all of a sudden, so much in sight for him again.
What did it mean for your own practice as a curator to work on this, and how do you see your identity and your own career reflected through the lens of a project like this?
From the very beginning of my career, I was driven by the wish to document and mediate what artists do today. I have fulfilled very different roles in the art world: I worked in public and private institutions, I have set up the structures for private collections to go public, but through all these twenty-seven years, I was always on the side of the artists. Whatever I do, be it a catalogue raisonné, a substantial monograph, or a retrospective exhibition, the artist and their work come first. The format of each endeavor is always set out in a way that it is appropriate to the artist's oeuvre. I think we owe so much to artists—they are the thinkers, philosophers, and speakers of our time. They have to stay independent and uncompromising as they are in order to be a formative part of our culture. Being able to work with Luc Tuymans so closely for over then years in order to create this magnum opus is a privilege and a big compliment. It is wonderful to feel the trust of the artist. As an art historian, you feel your work—and also, in a way, your uncompromising attitude—are appreciated. There is more to do and to say about art than auction figures or visitor numbers.
If you could save just one volume from a fire, which would it be, and why?
Imagine being asked which of your three children you would rescue? I think you'd rather jump into the fire yourself! But seriously: The three volumes are equal in value and reflect very specifically the production and being of the paintings in their own time. And they're so thick and solid, they wouldn't burn anyway… ;)